What's new!
Updated on 15 may, 2023
✅ ScripAI is FREE*!
15 May, 2023
We have cross 27K+ users using ScripAI. out of which 500 are daily active users.
Also We are adding more 100+ FREE usecase in ScripAI.
Users pay almost $30 per month on ther platfroms like copyAI, jasperAI for same usecase which are FREE here on ScripAI.
We have decided to keep the ScripAI FREE till 1 Jan 2024.
After 1 Jan 2024 We will revalidate this decision.
We are able to do this with Ads on this website as the money earned from these ads pays few of the expenses.
Checkout new FREE tools here.
✅ 13K+ Users in 13 days!
1 April, 2023
We have cross 10K+ users using ScripAI.
Few marketing campaigns in the pipeline to improve visibility of ScripAI among content creators on Tiktok, Reels & YT shorts.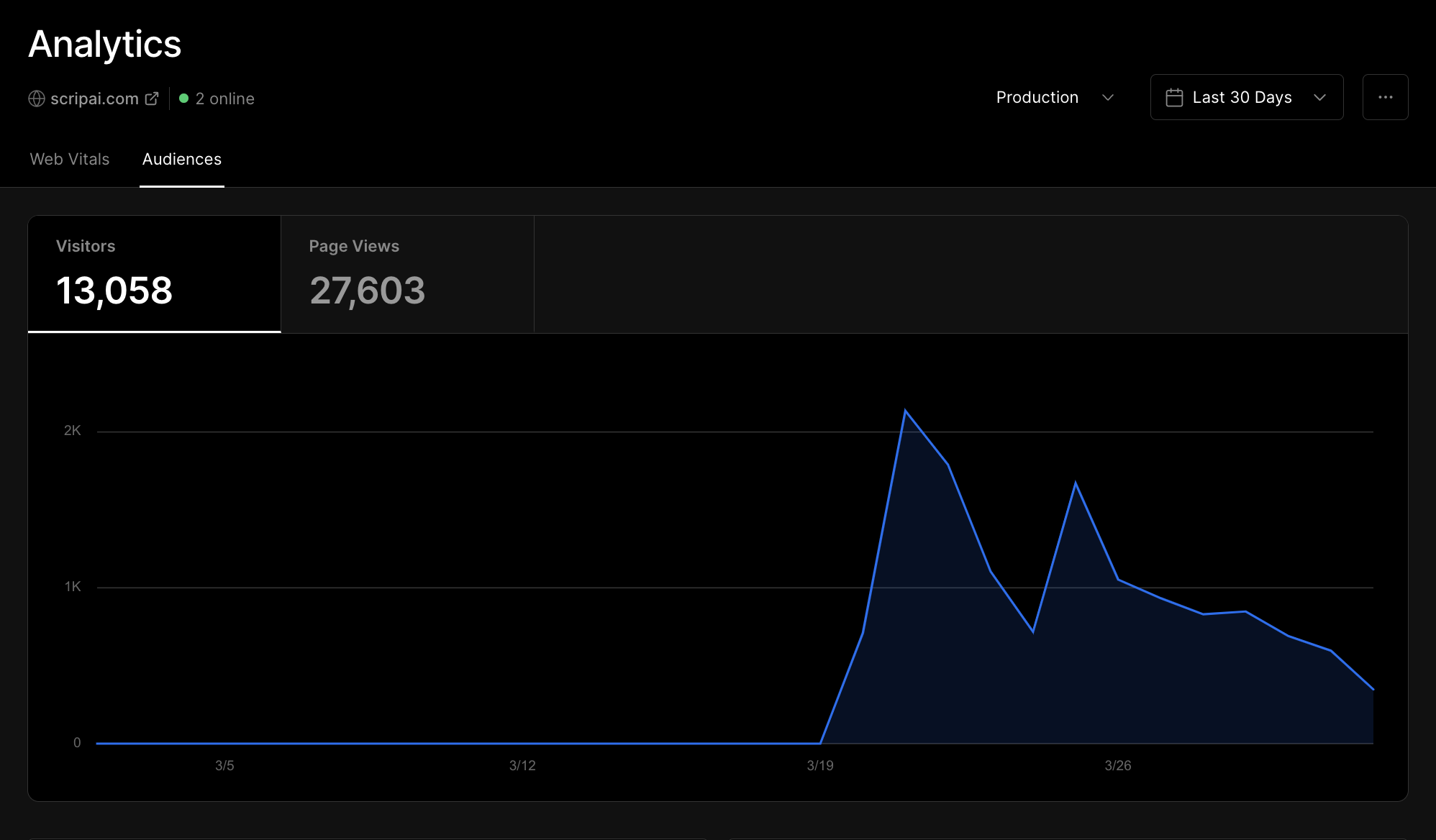 ✅ ScripAI is FREE for limited time!
19 Mar, 2023
I as user really form my heart wanted to have this product free & free for lifetime.
Scrip AI is bulit on top of openai business api where each call to server cost few cents to dollers.
We have created a fund of $150 to keep the app free for limited time.
Once this fund is finshed we may launch freeimum plan to keep scrip ai alive.
Otherwise we may add more $100 + to the fund to continue offering the ScripAI for FREE!
✅ ScripAI is live!
18 Mar, 2023
Scrip AI is really excited to show it's first look and the first use case.
with Scrip AI now you can write viral 30 sec - 60 sec short video script for Instagram Reel, TikTok and Youtube shorts 10X faster.